Scholarships for Current College Students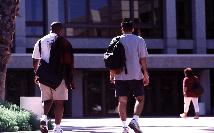 Are you already in college and wondering whether you can still find and win scholarships? If so, you can stop wondering. There are still scholarships available even after you've started your college journey. To search for scholarships as a college student you should use many of the same strategies that a student in high school would use. You can start with the Free Scholarship Search section of this site. You should also read Chapter 18, "Scholarships for Current College Students and Transfer Students" in Winning Scholarships for College. If you're looking for scholarships you can win as a high school student, visit Scholarships for High School Students or the student section. You can also view this short video for additional information about getting college money.
Use the following short list of scholarships to give you a jump-start on your scholarship search as a college student. Please contact each organization to confirm deadlines and eligibility criteria. Do not use this listing as your sole resource! The scholarships and awards shown below are general and can be used for any area of study. There may be other scholarships available to you based on your background, major, affiliations, and specific interests. To get help with strategies for finding and winning scholarships as a college student, consider taking an online scholarship course conducted by Marianne Ragins. Also consider reading the scholarship eBook, Find and Win Scholarships Online. Join us on Facebook and Twitter to be alerted about new scholarships and other helpful information.
For additional information about the scholarships and awards listed below, visit the linked web sites or refer to the appendix of Winning Scholarships for College for more information.